US Navy Covers and First Day Covers by Morris W. Beck
FREE Online Reference Catalog, FREE Checklists and BLOG for US Navy Cover and Space Cover Collectors
Compiled and Managed by Owen R. Murray, A "LIFE" member of the USCS L-5676 joined in 1966, and ATA Space Unit #4500
This Web site has over 3,500 scans of Beck Navy and Event Covers with Reference Text.
Our 21st year managing this BECK site.

| | | | |
| --- | --- | --- | --- |
| #1 First cover in the 1000 Navy Series. 1962 | Special "S" cover USS Enterprise Est $85 | Mercury Flight of Cooper | USS Hornet-Neil Armstrong |
Home Morris W. Beck Cover Basics About this Web Site Beck Space Cachet Designs Beck's Personal Covers Astronaut Autographs
#6 USS Dace Overprint Checklists Cover Varieties Oddities Beck's Messages Postcard Messages to Customers

1943-1970's Events Nuclear Ships Foreign President Series States Series First Day Covers

The Numbered Series About the Series
1-50 51-99 MA-8 S,100-150 151-200 201-250 251-299 300-350 MA-9 351-402 403-455 456-514 GT-2 515-569 GT-3, GT-4, GT-5

570-621 GTA-6 GT-7 622-687 AS-201, GTA-8, GTA-9, GTA-10, AP-3, GTA-11 688-769 AS-202, GTA-12, AS-204, AS-501, AS-502, AP-7

770-841 AP-8, AP-9, AP-10, AP-11, AP-12, AP-13, AP-14 842-899 AP-14, AP-15, AP-16, AP-17, SL-II, SL-III, SL-IV 900-951 952-1000 ASTP

Small Rubber Stamps on Space Covers Apollo PRS Postmarked in Hawaii WHAT IS A CREW COVER? Quantities

ASTP USS New Orleans July 25, 1975 onboard Cover How postage rates affected collecting Beck Printing Log


Copyright ©1999-2021 Owen R Murray, Retired USAF. All Rights Reserved. Revised: Monday October 18, 2021.
A Resource and Blog for Collectors of Morris W. Beck Philatelic Covers.
Owen R. Murray, Retired MSGT 20 yr USAF/ANG About this site

In memory of Morris W. Beck, 1926-2011, US Navy WWII Vet
Beck's 1000 set of covers is acknowledged as the most desirable US Navy Space Recovery covers
Latest Update: October 18, 2021
NEW Page Devoted to W R Skelley
The Skelley page shows articles, photos and scans of over 40 Beck covers addressed to Skelley
New Additions to This Site
October 18, 2021

Sold on eBay for $280 + SH
From estate of NASA Chief of Security, Charles L Buckley, Jr.
Seller says there are only 3 known of B732 postmarked at KSC, this date.

October 17, 2021
Joe Volutza of the spacecoverstore.com sent us 7 scans of GTA-8 covers.
They all are missing the 3rd color of Beck's cachet, the background color.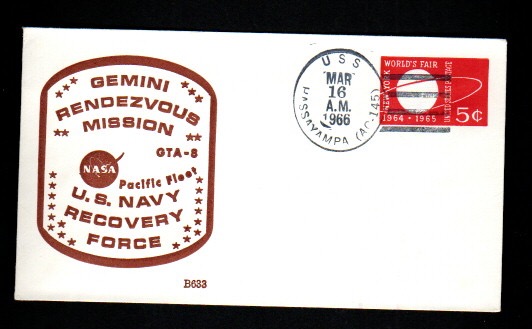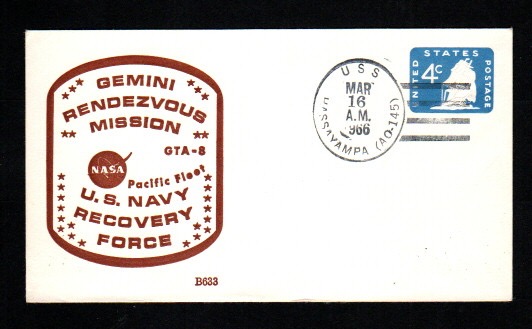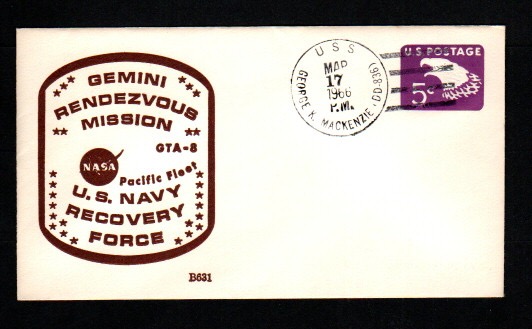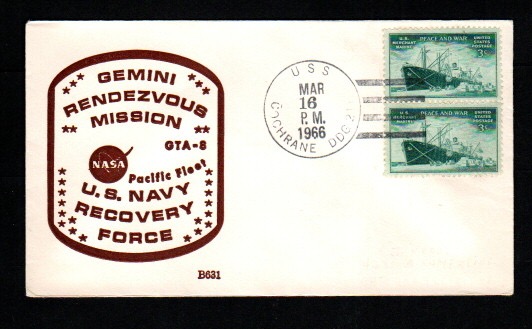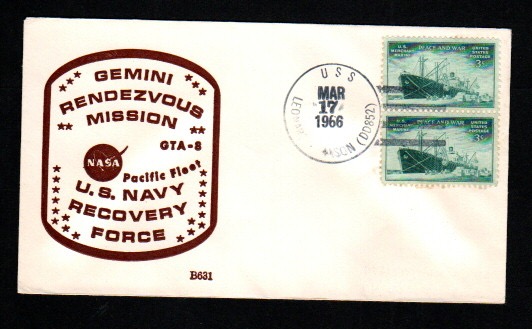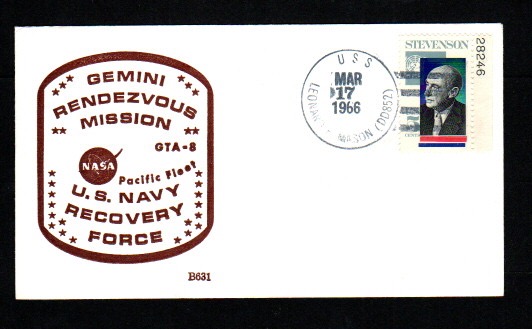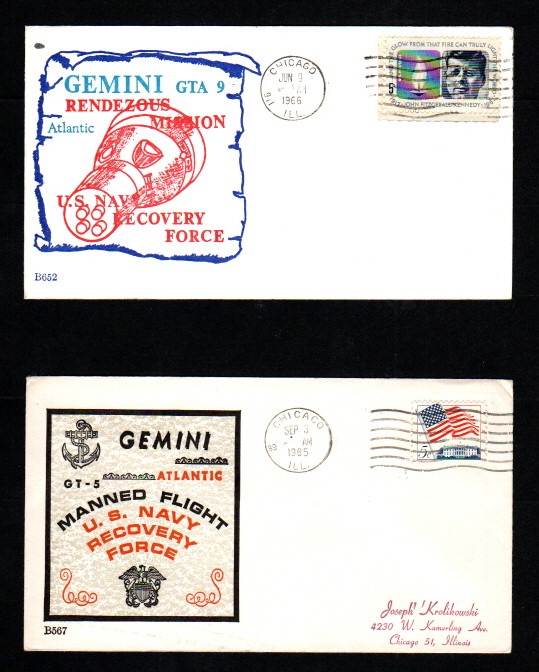 Scan courtesy of Joe Volutza. Both covers are postmarked just after the space flight in Chicago.
Who knows why these are postmarked in Chicago AFTER the flight. The logical conclusion
is that the ship didn't get the covers postmarked on the ship and the Chicago post office
cancelled the covers before delivering them. Note that the GT-5 cover is addressed to a
customer living in Chicago. B652 was scheduled for USS R L Wilson. B567 was scheduled for
USS Neosho.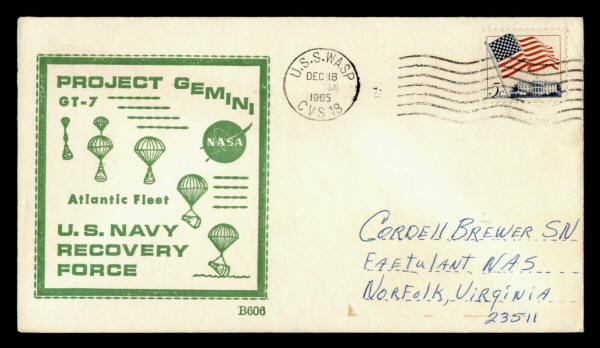 Sold on eBay for $316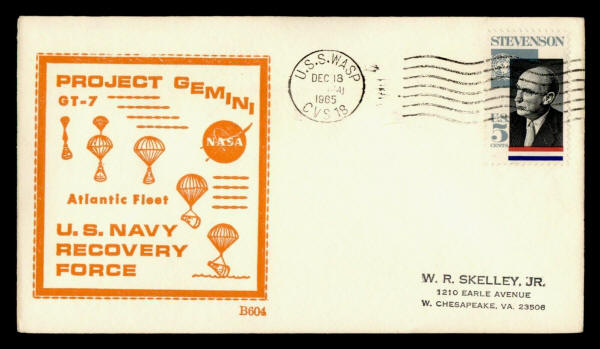 Skelley, this is the second B604 on our site addressed to Skelley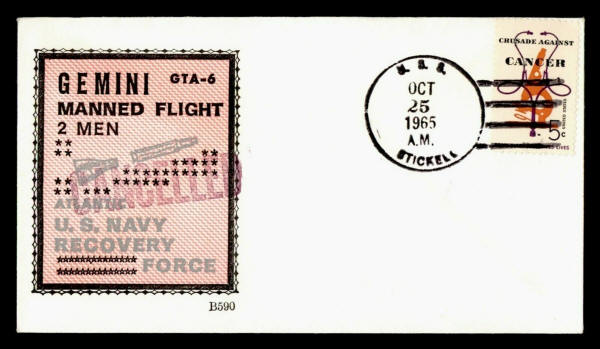 Sold on eBay for $110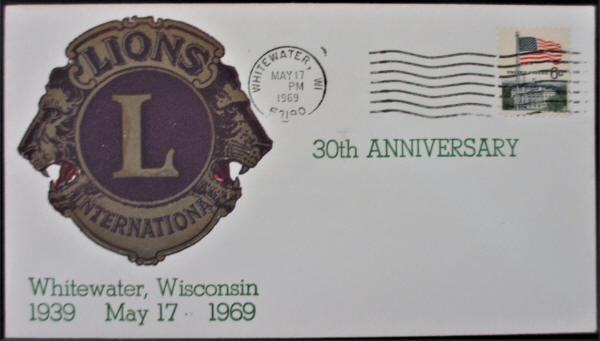 Jeff Mills sent us these scans.
It is a MW Beck cover.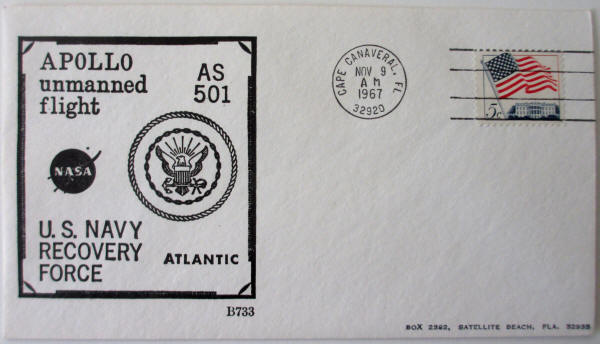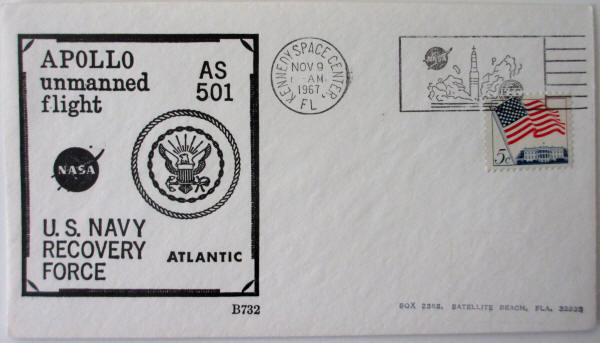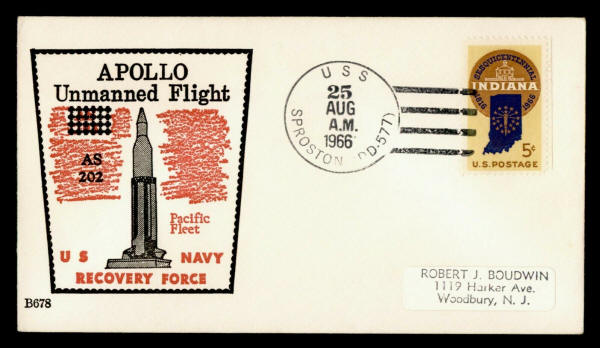 Sold for $21.29 on eBay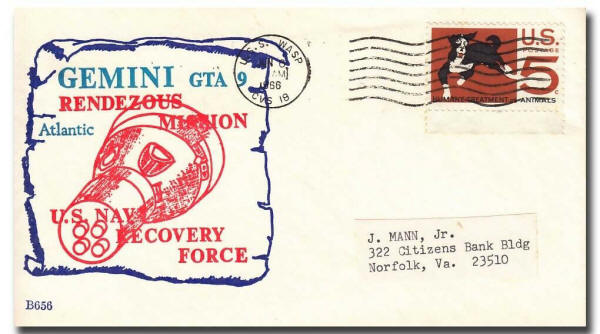 Sold for $193.06 on eBay.
VERY Scarce. This is only the second one on B656 for the Wasp we have seen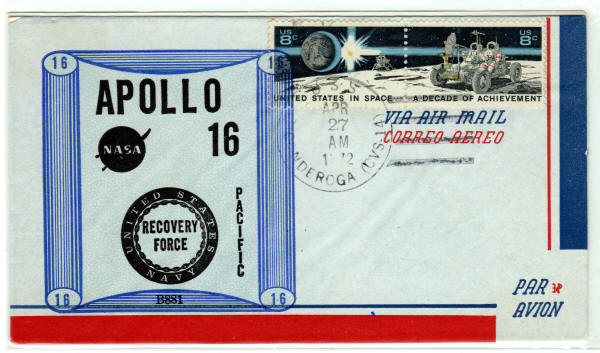 B881 on the popular airmail envelope theme. B880 and B881 have many different cancels and locations.
He must have printed an excess number of covers for special requests
because of the numerous covers postmarked in various cities.
Scan courtesy of Charlie Hamilton

A similar, but different, B683 is on this site. Skelley managed to obtain multiple copies of important space recovery covers.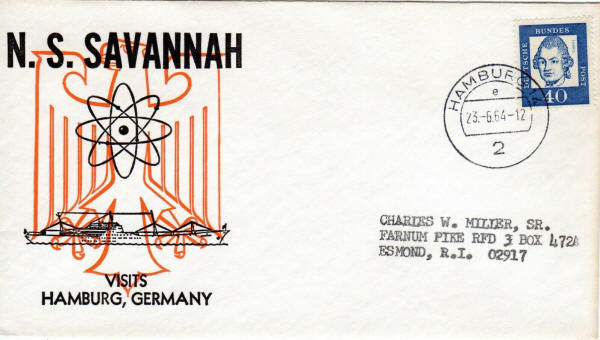 Jeff Mills sent us this scan of the 1964 cover for N S Savannah visiting Hamburg, Germany. Listed in Foreign.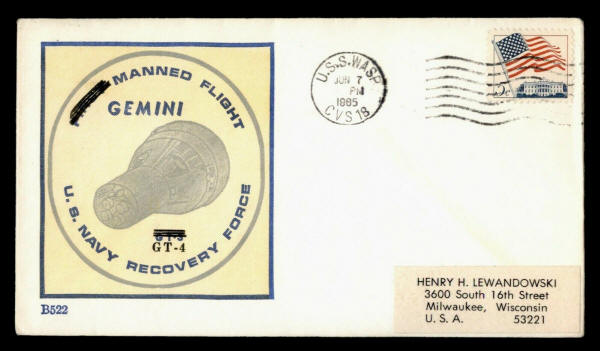 Sold on eBay 5/21 for $41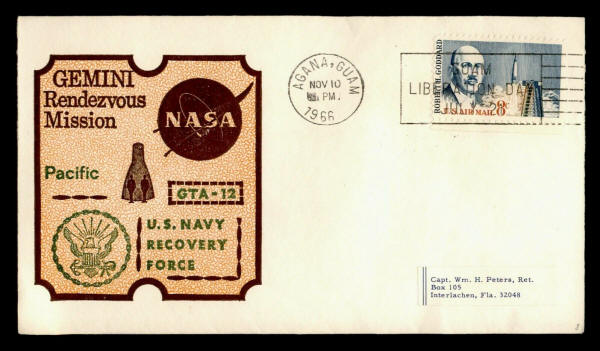 This one sold for $361 on eBay in May 2021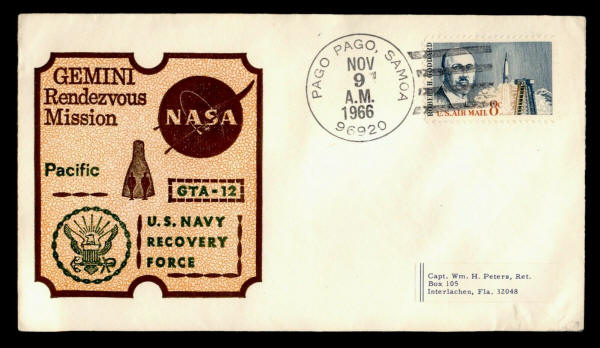 This one sold for $361 on eBay in May 2021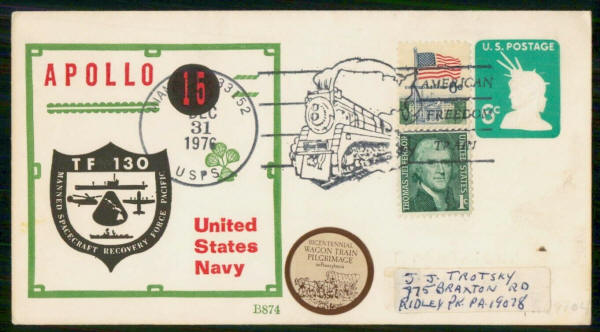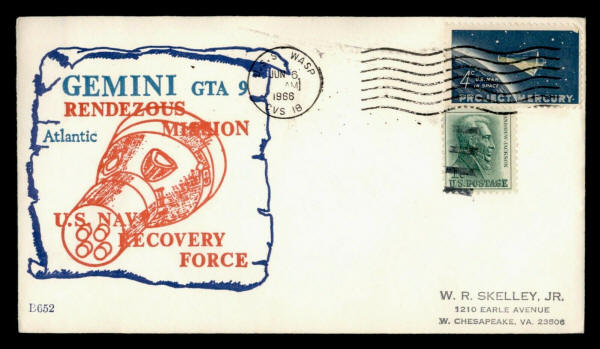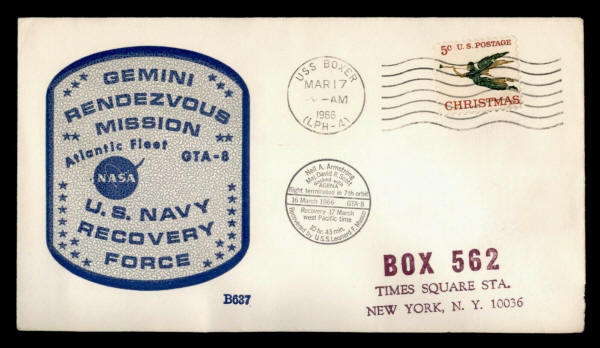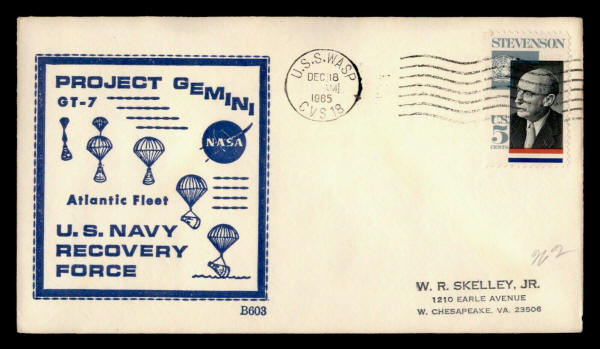 This is the third Skelley B603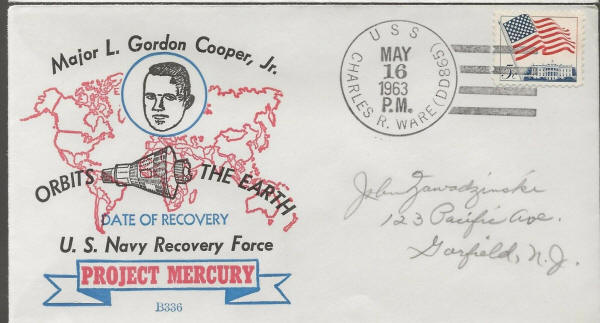 Has P.M. in cancel. Scarce $20
Beck's printing log indicates that B336-was for USS Charles R Ware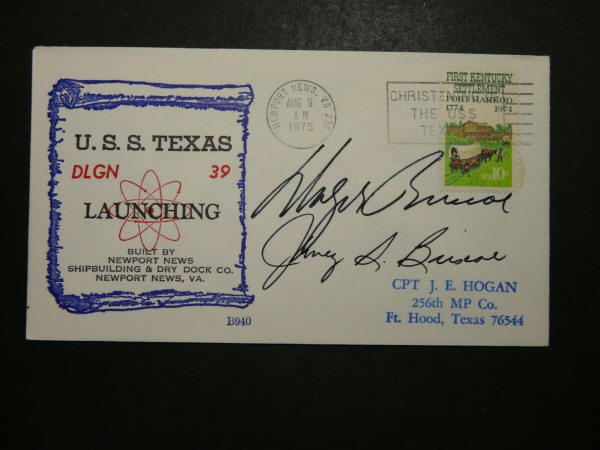 Signed by the ship's sponsor, the Governor's wife Mrs. Briscoe
Latest additions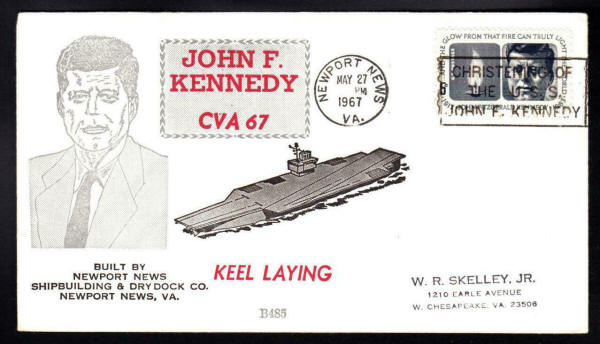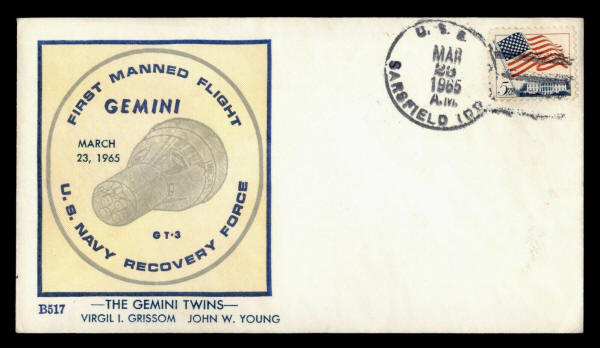 Sold on eBay for $32.81 3/21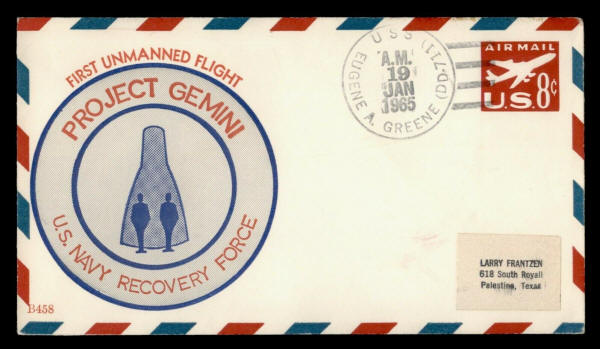 Sold for $26.40 on eBay 3/21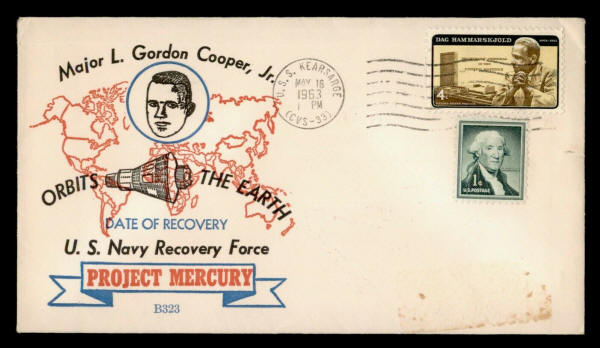 Recent prices for B323 are $48.25 and $29.00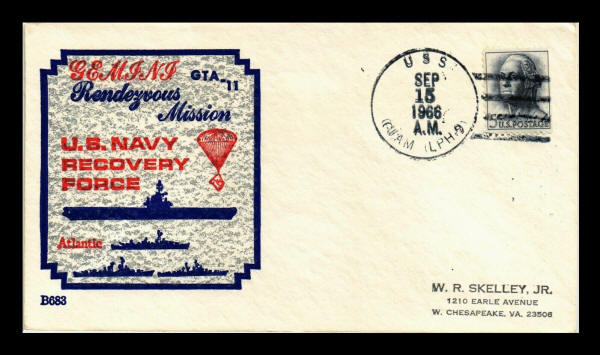 Sold for $39.00
The following scans were sent to us by Larry Johnson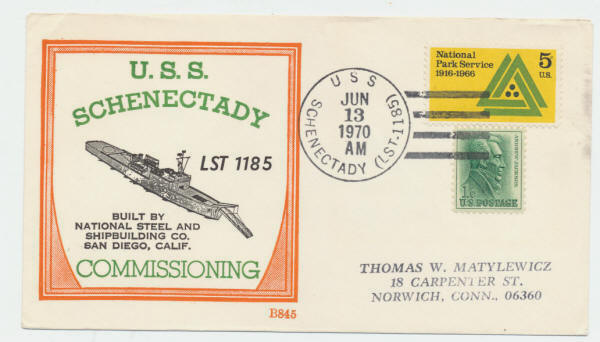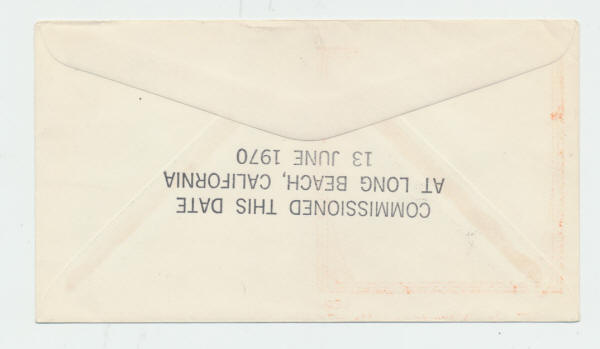 Sometimes the rubber stamp is on the front or back of the cover. See the listing for B845
We have several of these FDCs on our site, but this one is special because if has Morris Beck's autograph!

Here are a couple of very informative articles featuring W R Skelley and his efforts during the space program.
Great information. Scans are courtesy of Jeff Mills.
CLICK ON ARTICLE TO MAKE IT LARGER TO READ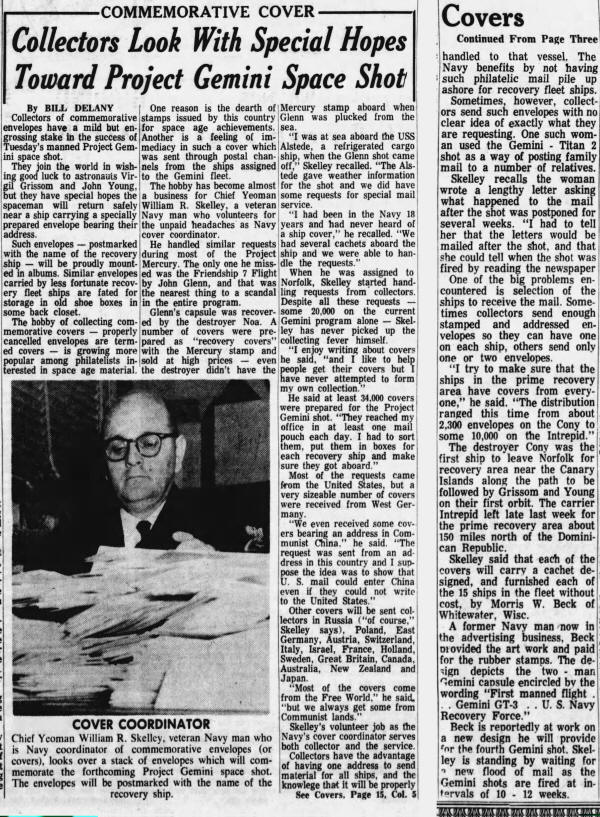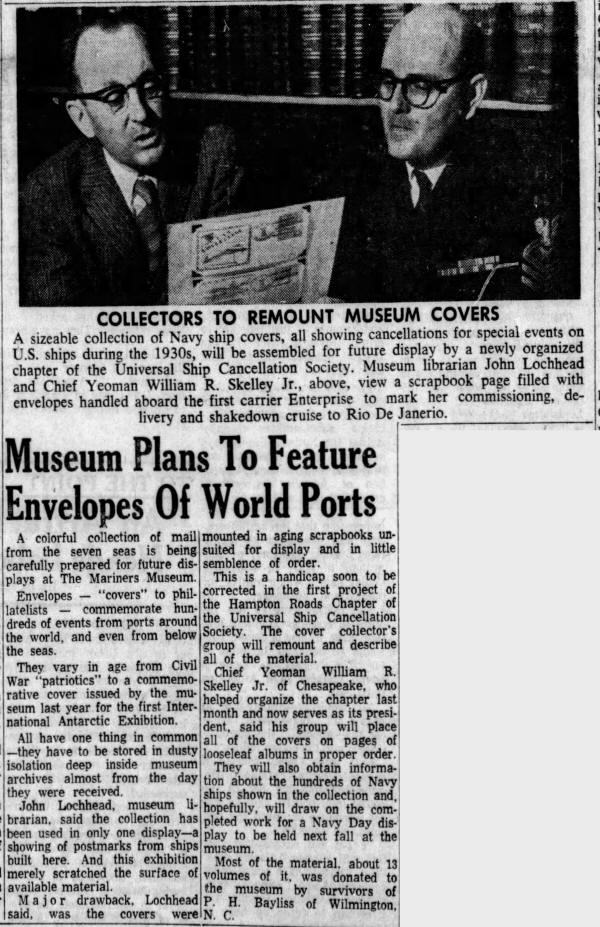 Skelley newspaper articles courtesy of Jeff Mills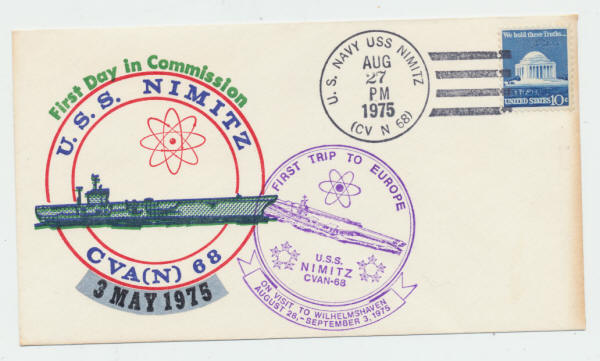 This is a Beck printed cover first used for the 3 May commissioning of the USS Nimitz.
This cachet marks the European visit.
We put this cover in the numbered listing under Beck 996 for comparison to the numbered cachet. HERE
Scan courtesy of Larry Johnson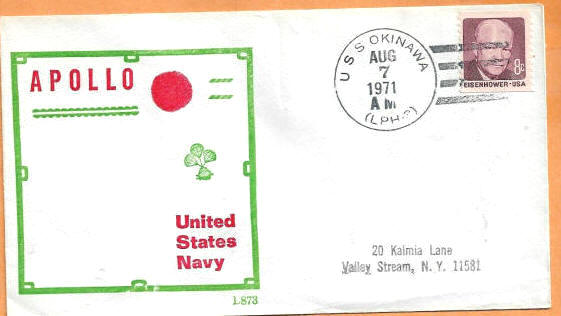 This printing error cover was sold on eBay in February 2021 for $112.50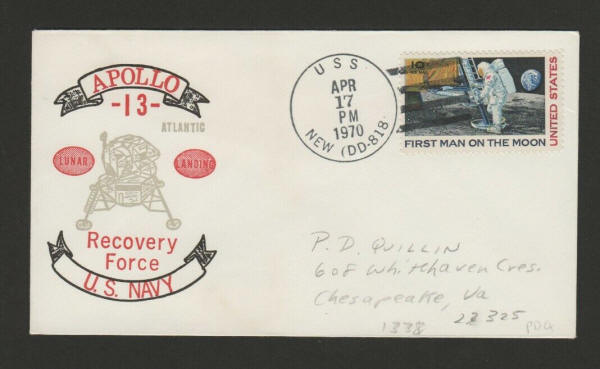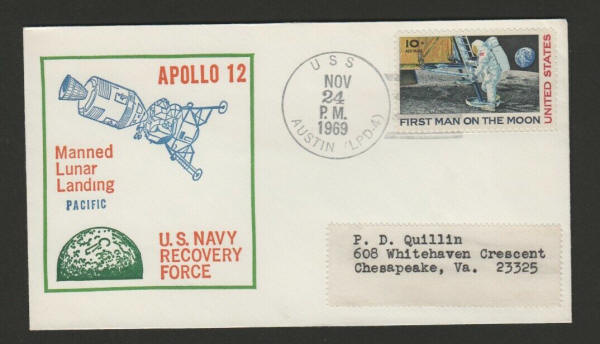 This CREW cover sold on ebay for $68.00 Listed as B823 CREW
Charlie Hamilton sent us this scan of a 1947 Beck cover.

We have a similar cover on the site but it has a different cancel and is dated 3 JUL 1947. See HERE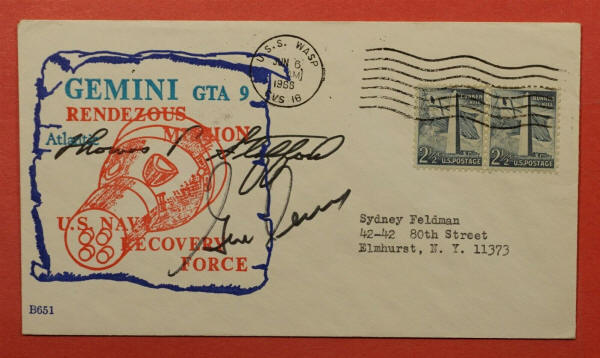 Added to B651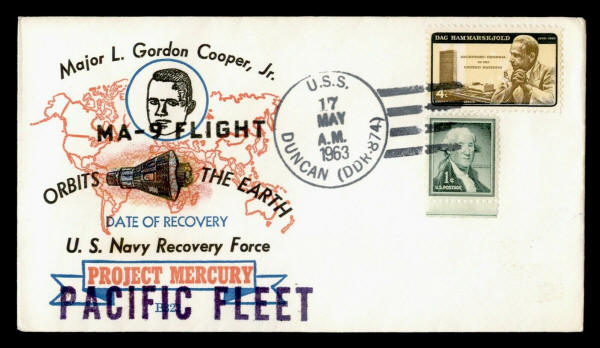 Added to B321
Skelley Really Hit the Jackpot with all his Access to Recovery covers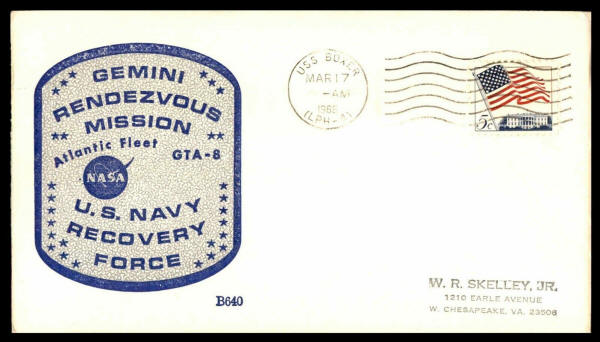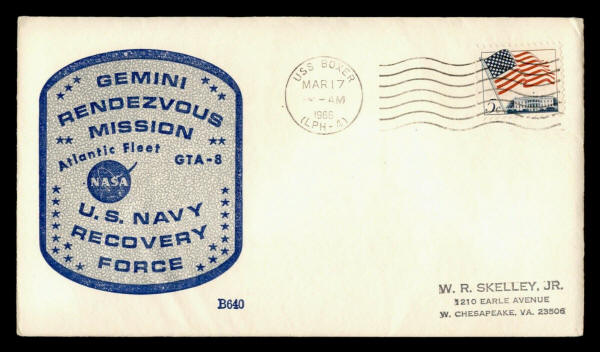 Here is another B640 addressed to Skelley. Note the cancellation on the stamp. It is NOT the same cover as above.
Beck Space Covers Seldom Seen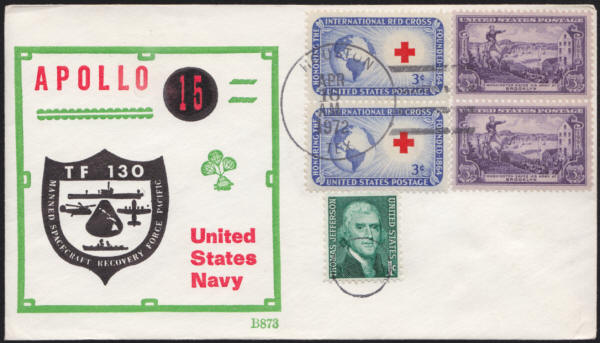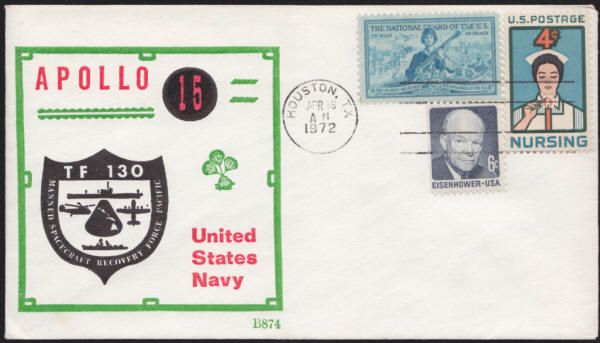 Apollo 15 Beck Cachet with Apollo 16 launch date postmarked at Houston. Perhaps unique.
Scan courtesy of Simon Cronk
Beck 873 was scheduled for USS Kawishiwi. 874 is usually seen with Kawishiwi cancel.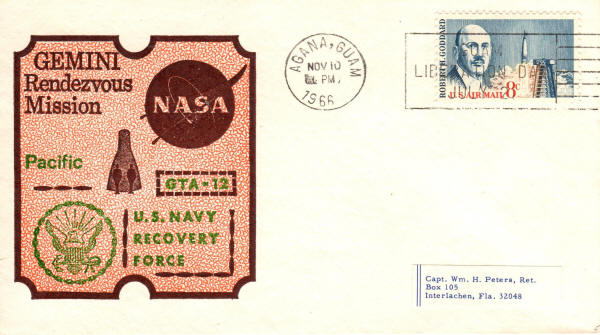 Listed as B705 CREW HERE
Scan courtesy of David Ball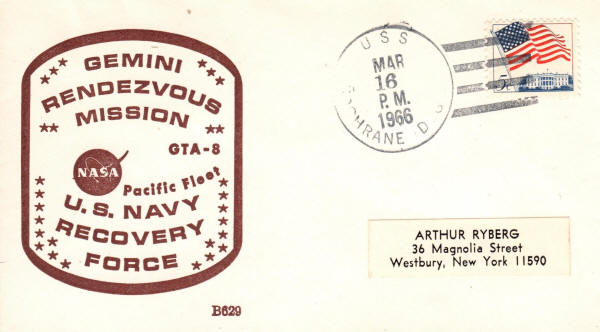 B629 missing the blue background
Scan courtesy of David Ball

Beck State Series Printed on Picture Postcards
Larry Johnson sent us these 1952 Beck States cachets printed on the back of a picture postcard.
Mr. Beck was happy to print his cachets on envelopes or cards at the request of his customers.
Beck FDC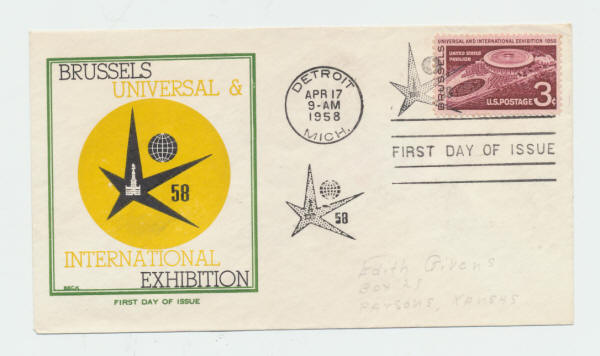 Beck B821 with Border
Apollo 12 B821 cover with the preprinted Navy themed border.
This border was printed on the cover before the collector sent the envelope to Mr. Beck for cachet printing.
We have seen this border on a few non-Beck covers.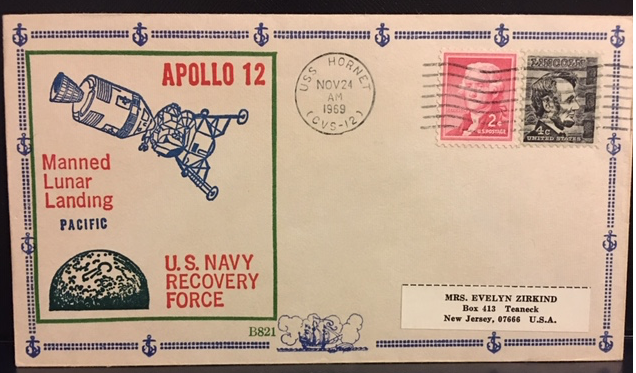 Scan courtesy of Tony O'Brien
Beck Crew Cover
Apollo 14 Crew Cover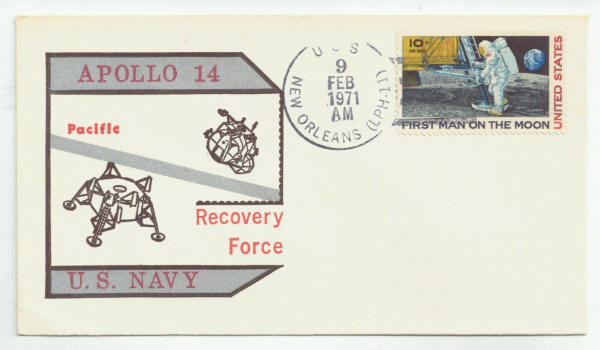 Sold on eBay for $43.50
Beck Space Cover Used for FDC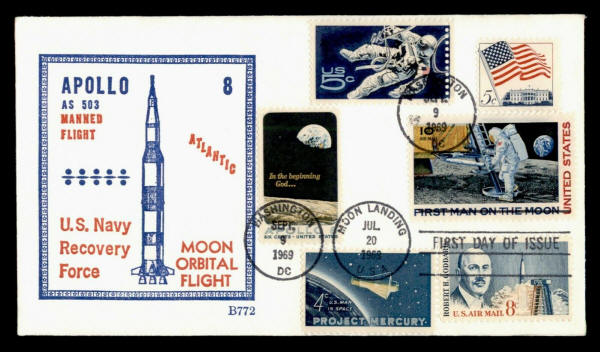 This very unusual First Day cover on a Beck cachet is probably unique.
We don't know the details about this cover or who made it.
Others think it was an uncancelled cover that was then used for this FDOI.
The cover sold on eBay for $94.75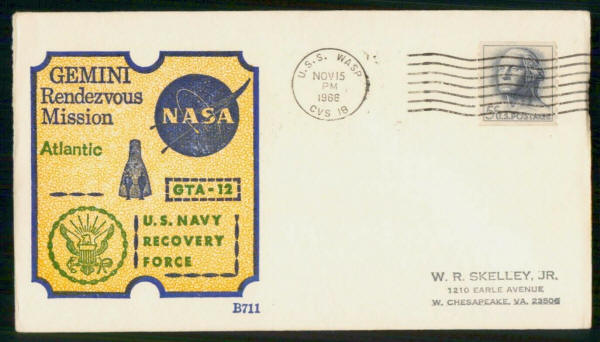 Added to site under B711. There is another one there that is very similar to the one above except the cancel has
different placement on the stamp. More Skelley magic.
Unlisted Beck Space Cover Addressed to Skelley
This sold Sept 14 on eBay. Probably one of a kind. Sold for $93.50 + SH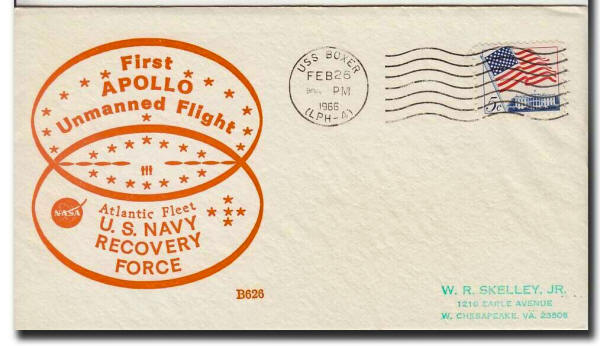 Beck Space Covers With Autographs
Tony O'Brien sent us scans of some Beck Space Covers autographed by the Ships CO
Adding A Few Interesting Beck covers Sold on eBay One for Over $300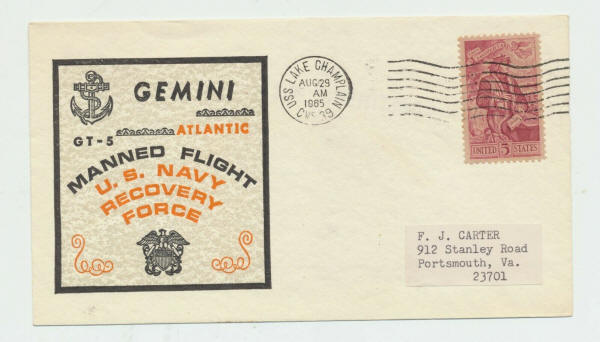 A GT-5 Crew cover. Sold on eBay for $52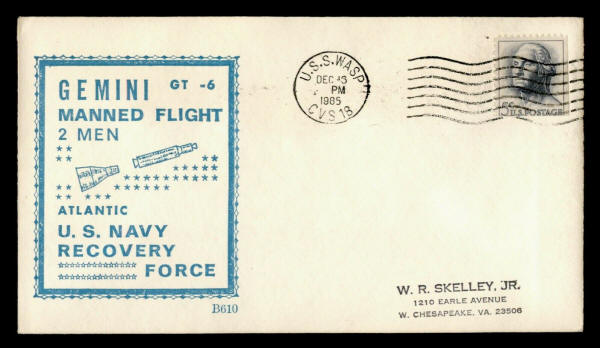 A bidder paid over $300 for this Beck cover addressed to Skelley, the Navy cover coordinator.
We are speechless!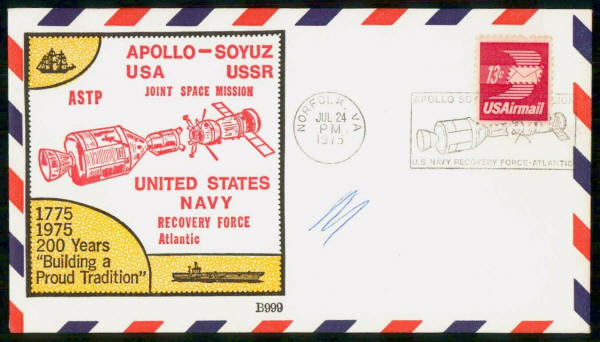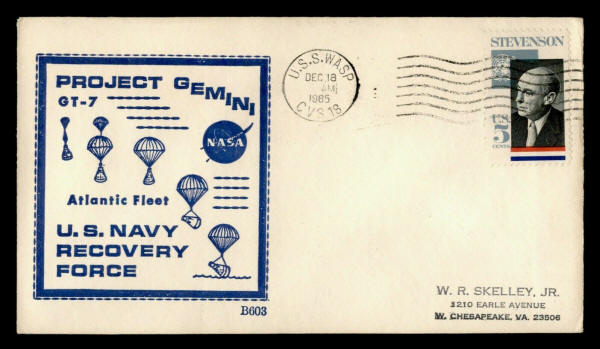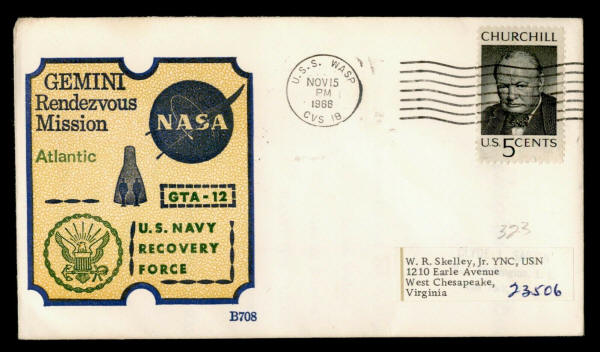 Another example of Skelley's address label placed over an address on the envelope.
Remember that Skelley was the US Navy coordinator for covers. Sold for $21.25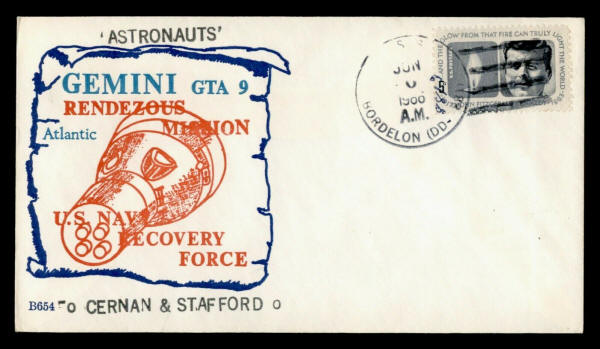 Do you know the origin of the two rubber stamp lines on a few of these covers. We know that Mr. Beck did not put these rubber stamps on covers.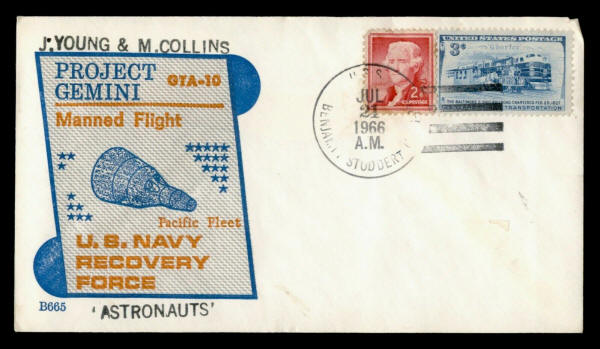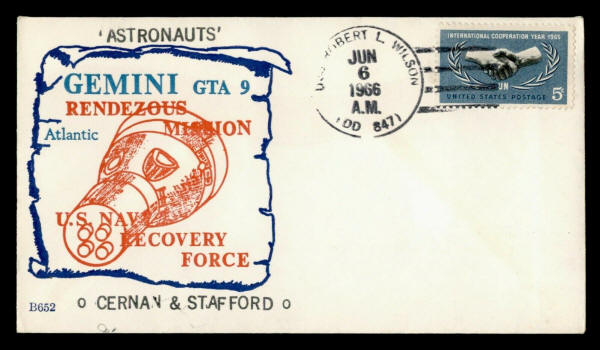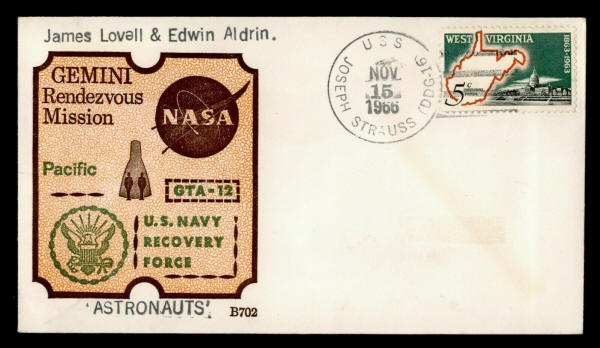 Shelley Address from the PRS Sold for $153.75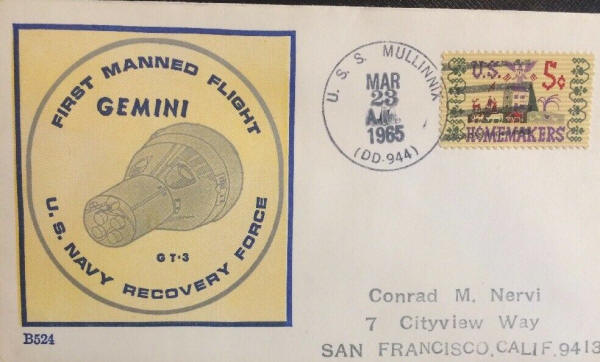 An Early Beck 1943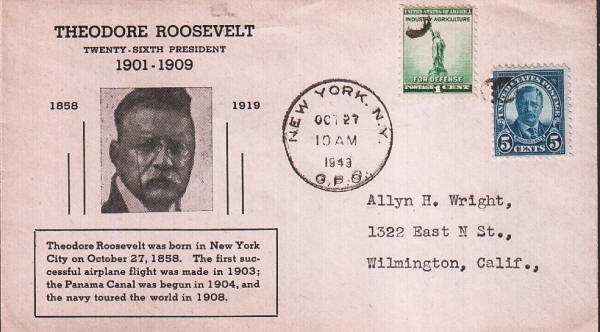 Scan courtesy of Jeff Mills
A good example of Beck's very early Naval Covers. Probably Beck's first printed cover. We asked him which was his first cover and
he replied that he couldn't remember. This one was printed while he was in high school. He graduated from high school and joined
the US Navy in 1944.
Previously Unlisted Beck Space Scans
One of our readers, Mark Burton sent us the following scans.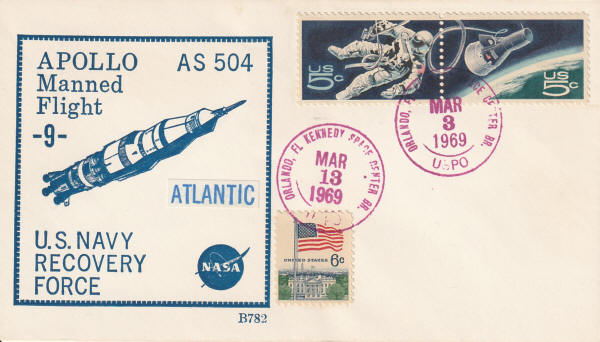 Dual cancels for launch and recovery. Scan courtesy of Mark Burton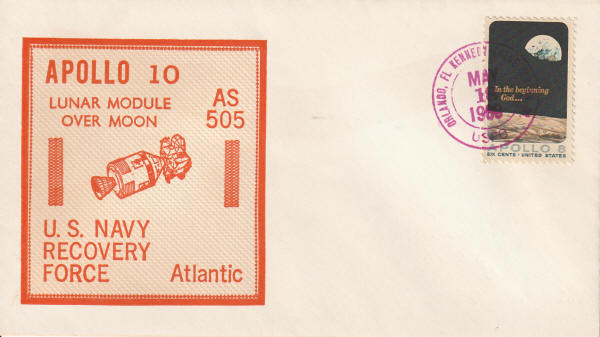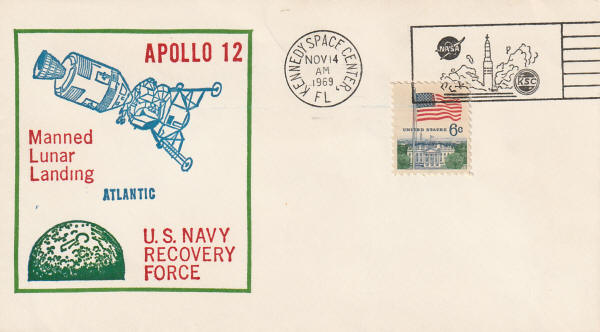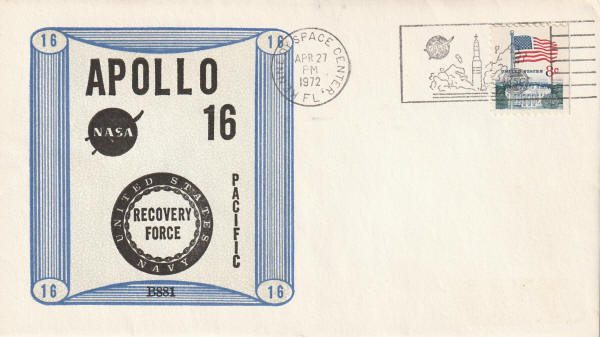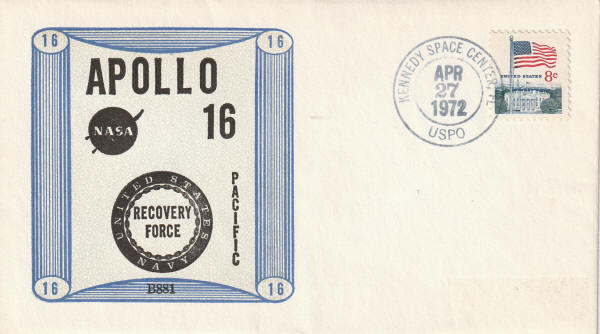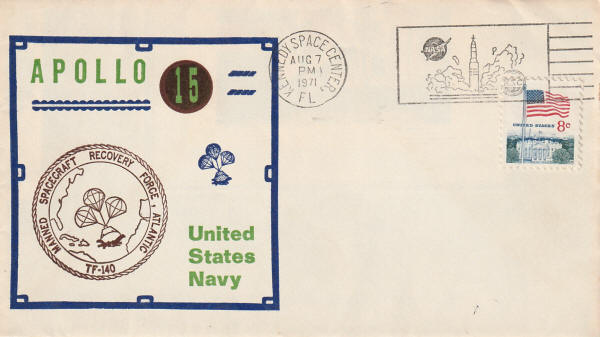 Added as CREW B875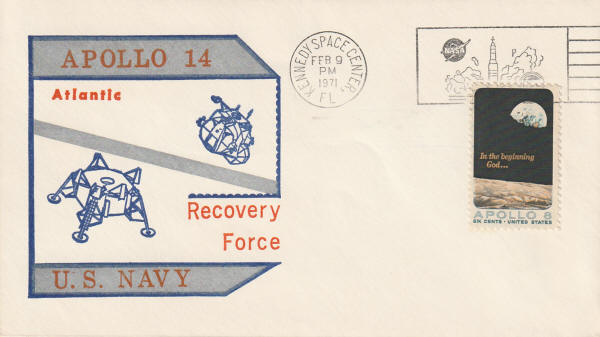 Added as CREW B861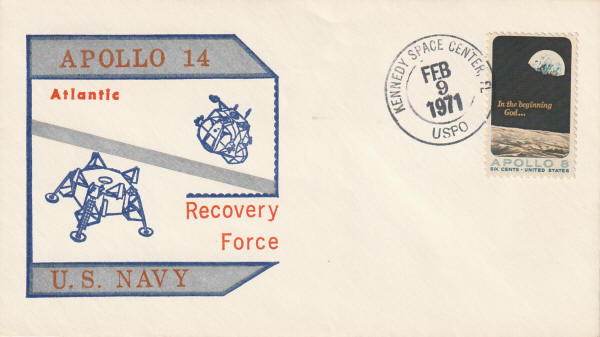 Added as CREW B861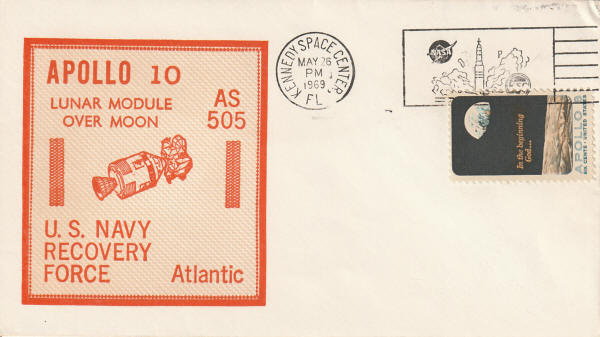 Added as CREW B790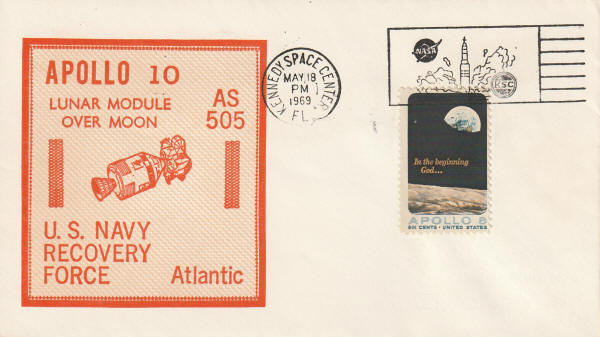 Added as CREW B790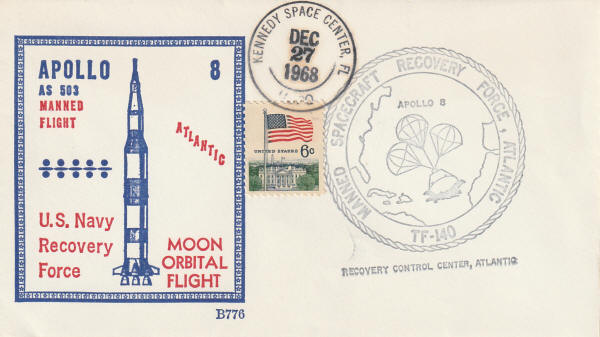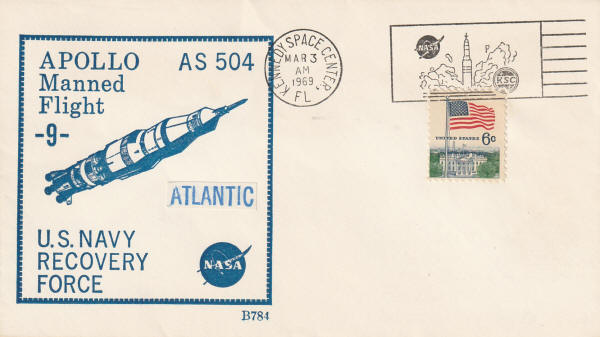 Beck Space Covers Just Keep Appearing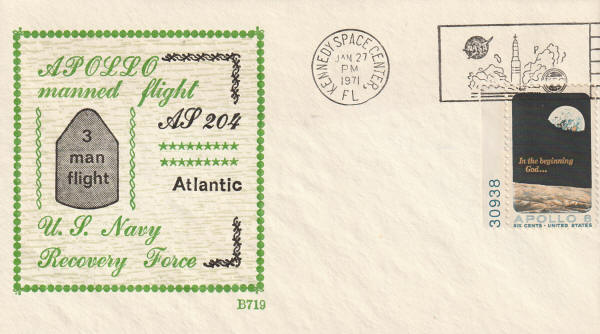 Mark also sent us this unlisted B719. The fourth anniversary of the Apollo 1 fire.
One of our readers, Mark Burton sent us these scans.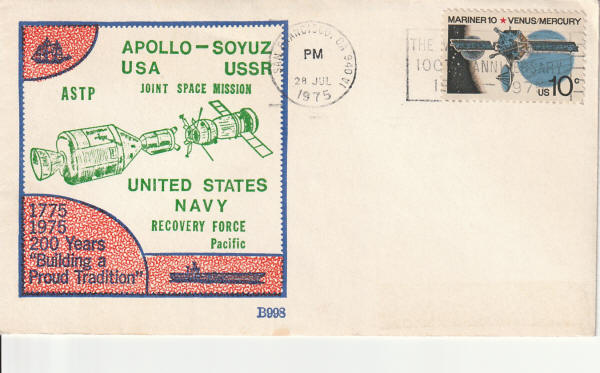 This is the second B998 we have seen with the July 28, 1975 date. We don't know the significance is of the date, if any.
It might be just a late cancellation due to when the post office received the cover.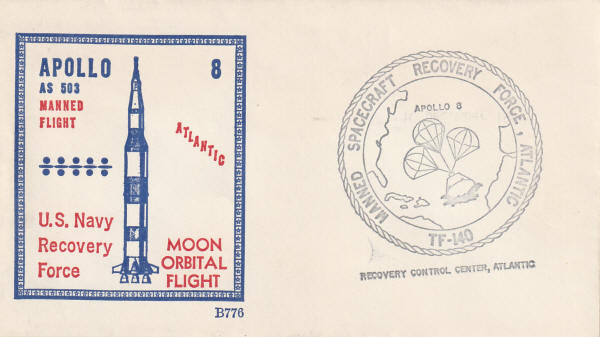 B776 with only the TF-140 rubber stamp cachet on the front of the envelope. Nothing on the back.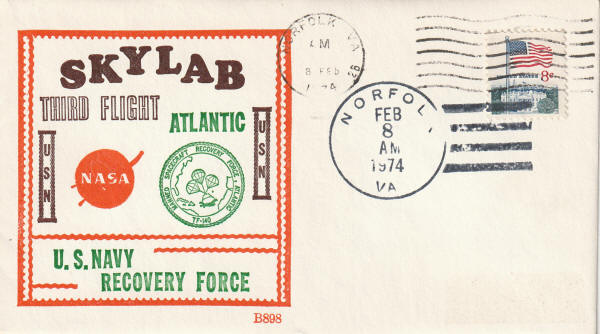 Most dual cancels we have seen are on B899
Amazing UNLISTED Beck CREW Space Covers
One of our readers sent the following scans of Beck CREW Covers.
All These Beck CREW covers are postmarked at Kennedy Space Center for Apollo flights.
Plus the covers have the space center official rubber stamp cachet.
These scans are courtesy of Mark Burton. The covers are from his fathers (Ray Burton) cover collection.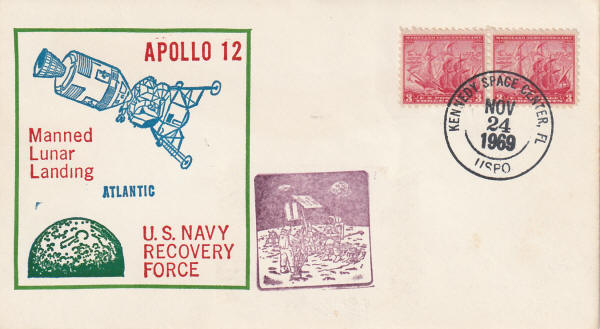 Now listed under B824 CREW, at the end of the Apollo 12 recovery ships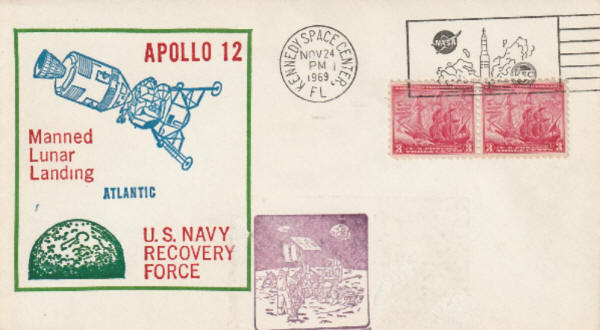 Now listed under B824 CREW, at the end of the Apollo 12 recovery ships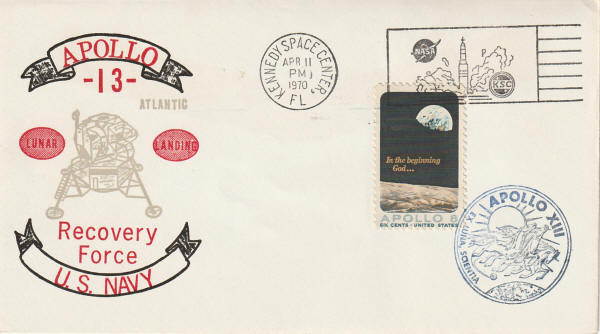 Now listed under B840 CREW, at the end of the Apollo 13 recovery ships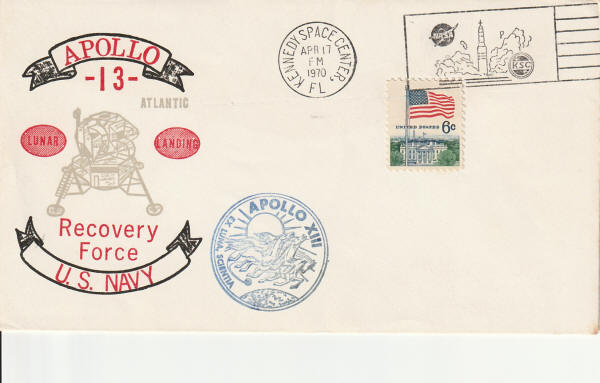 Now listed under B840 CREW, at the end of the Apollo 13 recovery ships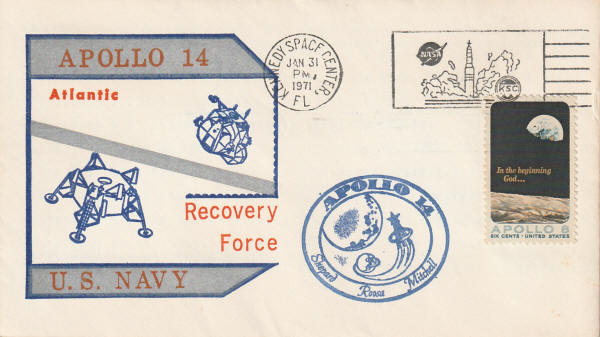 Now listed under B841 CREW, at the end of the Apollo 14 recovery ships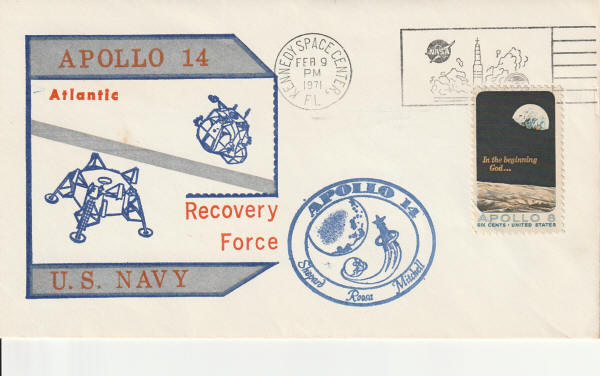 Now listed under B841 CREW, at the end of the Apollo 14 recovery ships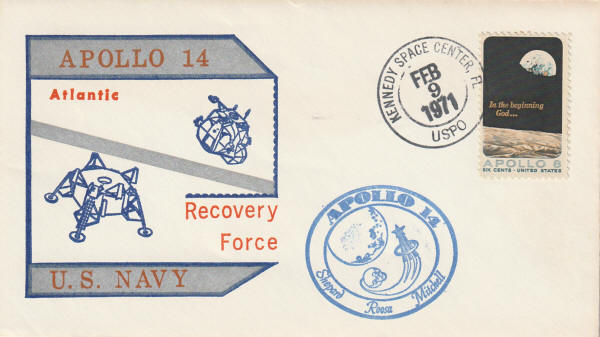 Now listed under B841 CREW, at the end of the Apollo 14 recovery ships
Beck Space Covers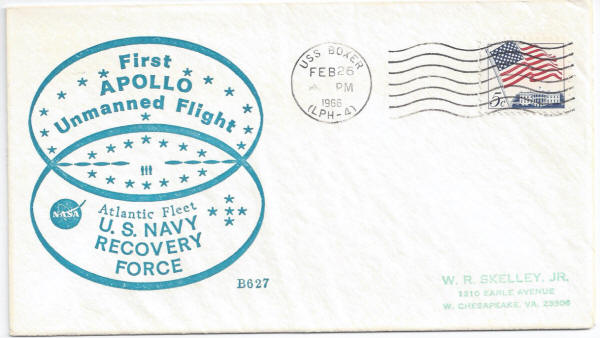 Compare the two B627 covers above and below
The cover above was added to our site in May 2014. It is the only one we have seen. Note that it is addressed to Skelley, the
US Navy Coordinator for collector's philatelic items for the space flights. Skelley directed the above cover to USS Boxer, the designated prime recovery ship for the first Apollo unmanned flight. Since it is the only cover known, it is very rare. Estimated value is over $100.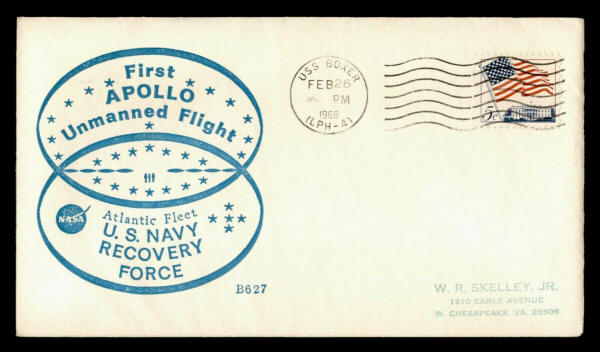 In July 2020, this same EXACT cover was offered on eBay.

We show both the cover sold in 2014 and 2020 so you can compare them to see that these are the same cover.
The cover sold for $78.50 on eBay.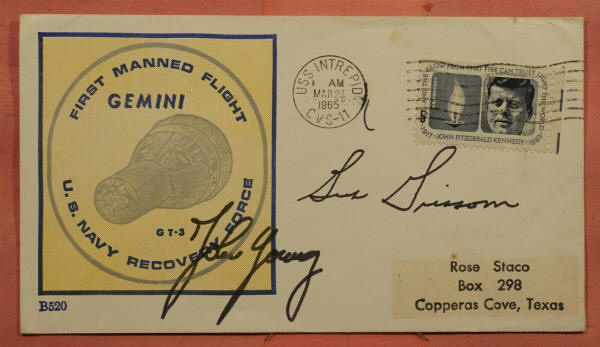 Another autographed (autopen) example of B520. This one sold for $48.25 in 7/2020
How Mr. Beck's cover service worked
Updated July 31, 2020
We've had some inquires from newer collectors trying to understand how Mr. Beck's cover service worked
and how there can be several covers from a recovery ship with different "B" cachet numbers.
Morris W. Beck of Wisconsin was a collector starting while in high school in the early 1940's and later was a cover dealer after he returned from service in WWII. He stopped producing covers in the mid 1970ís.
His most popular series of Naval covers was the set from 1962-1975 and consisted of 1000 cachets (covers).
He printed cachets for Navy ship commissioning, launchings, anniversaries, first day covers, etc. The most popular cachets (covers) were the
space recovery covers.
Mr. Beck tried very hard to get the recovery force information from the US Navy as early as he could before a flight, but as
time went on, timely information became hard to get in time for printing and shipping deadlines.

Early in his efforts, he tried to print the name of the recovery ship on the envelope but that didnít work very well, so most of
his space covers DO NOT have the ships name on the printed cachet. (although the ships name does appear in the postmark
(cancellation).
The US Navy had a coordinator to receive space cover postmarking requests from collectors and dealers.
Generally, the Navy had a 2 cover limit per collector, per event. Collectors sent their requests for rubber stamp cachets directly to the Navy.
Mr. Beck was one of a number of dealers that provided the service of a printed color cachet.
As a "side note" please note that Beck's printed color cachets and the rubber stamp cachets used by the US Navy were very
similar. This is because Mr. Beck produced the rubber stamp cachets used by the US Navy.
He sent them to the US Navy for each space flight at no charge.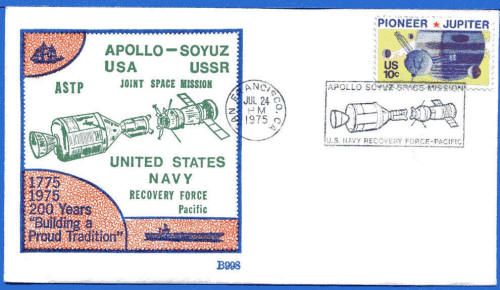 Above Left: Envelope sent to US Navy by collector. Navy applied cachet and postmark.
Above Right: Envelope with Mr. Beck's printed color cachet and "B Cachet Number". Navy applied postmark only.
Both the example ASTP covers probably had address removable labels and both were sent to the collector as usual
mail after postmarking.
On the later Apollo flights you will notice that the image of the rubber stamp cachet that the US Navy used was smaller than the cachet Mr. Beck printed. Large rubber stamps were hard for the US Navy to apply so they requested smaller images. Remember that Mr. Beck provided the rubber stamp cachets to the US Navy free.
Mr. Beck's Naval Cover Service
Mr. Beck provided the service of printing a multicolor cachet on collectorís SASE (self addressed stamped envelope) envelopes sent to him.
Collectors could also send a SASE directly to the Navy for the single colornrubber stamp cachet and postmarking.
Using the information provided by the Navy regarding the total number of ships in the recovery force,
Mr. Beck would assign a cachet number accordingly, such as B 708, B 709, etc.
So if the Navy told Mr. Beck there would be 12 ships in the recovery force, then
Mr. Beck would print 12 different cachet designs and assign/print accordingly. B708, B709, Cachet ID, etc.
Mr. Beck would print the multicolor color cachet on the envelopes sent to him by collectors.
The printed multi color cacheted envelopes were sent by Mr. Beck in bulk to the Navy for postmarking.
He prepared 400-1000 envelopes per ship according to his customers orders. Most customers requested one or two covers of each event.
He packed all the envelopes for one ship into a bulk container marked accordingly.
When the Navy received the shipments of printed color cacheted envelops from Mr. Beck, they distributed the envelopes to the ships of the recovery force.
This is where it got ďmessyĒ because someone at the Navy opened boxes and redistributed envelopes without
regard to the various cachet ID numbers. So, ships received envelopes all mixed up.
We have an article about Beck's multicolor envelopes without the B number. These are called CREW covers. See article HERE
Beck Space Covers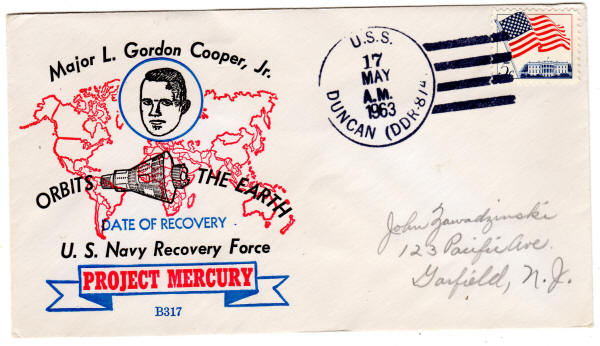 This Duncan scan was sent to us by Charlie Hamilton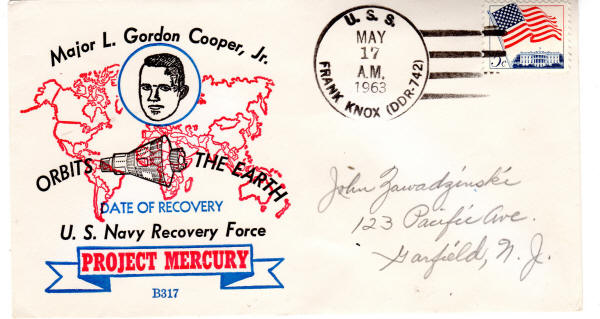 This Duncan scan was sent to us by Charlie Hamilton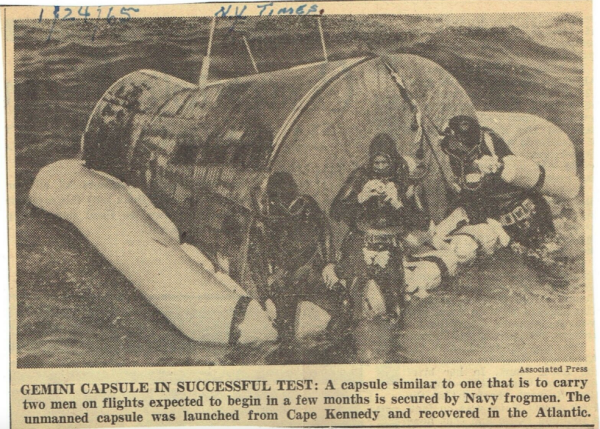 We normally don't show newspaper clippings but this one is very interesting.

Beck CREW Cover Added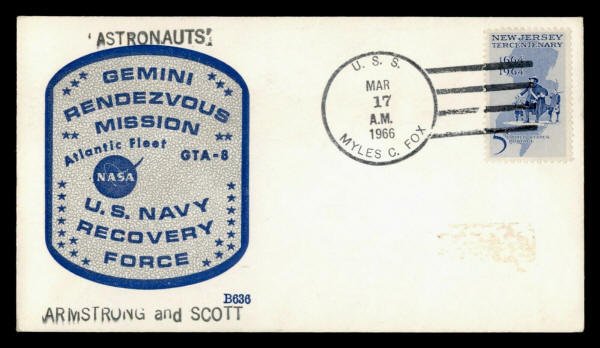 This was sold on eBay. We don't know who added the text, but we have seen it on other GT-8 covers
An Interesting Beck Cover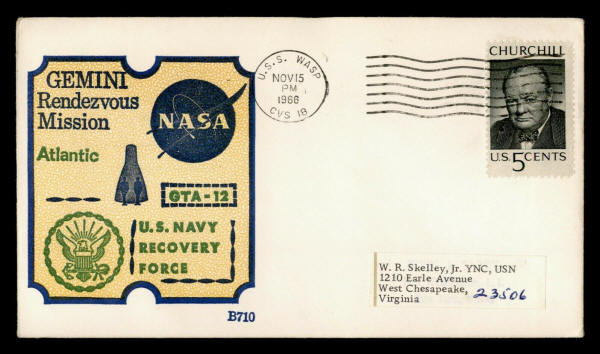 We have observed Beck covers from several space flights addressed to Chief Skelley where his
address label appears to cover up another address.
In this example, Skelley's label covers up the address for Clyde Sarazan.
This seems odd. If you have other examples of this please send us a scan.
If you are not a member of the USCS or The Space Unit, please consider joining.

Application for the USCS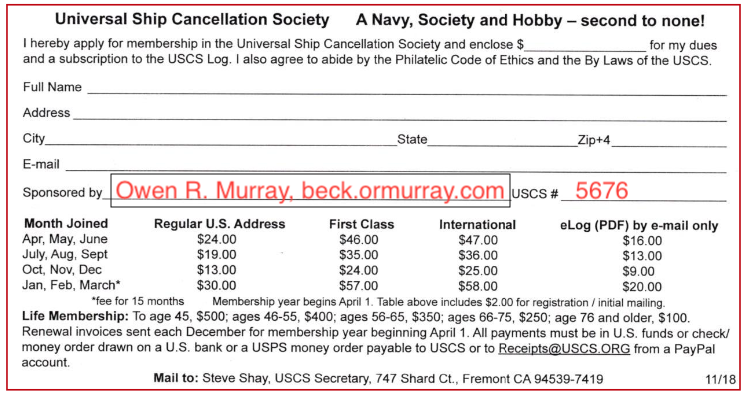 Application for the Space Unit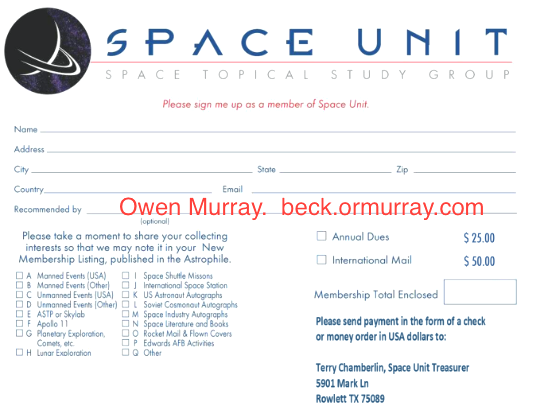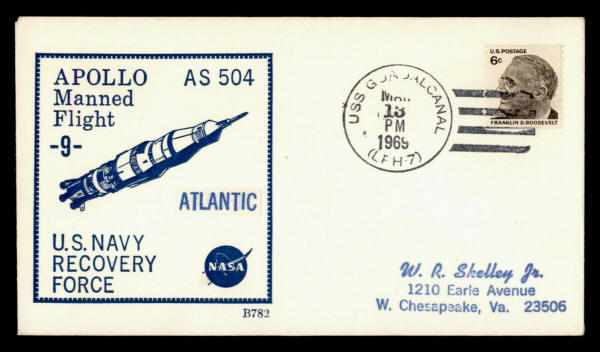 Note the text ATLANTIC is a separate sticker or label placed over the printed text
of PACIFIC.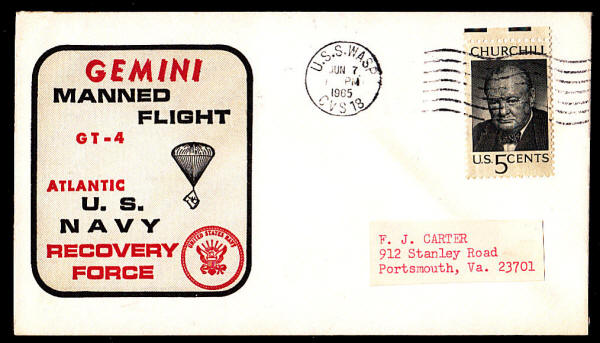 Nice GT-4 CREW cover with the VIP label. Sold on eBay in 2020 for $52.91.
Even though we show several of these CREW covers here,
it doesn't mean that they are common covers. It is just the opposite.
These are very hard to find and usually sell for a high amount.
Scan courtesy of Dr Ross Smith.
Very Elusive Beck Cover y MWB 146 added February 10, 2020
Larry Johnson sent us the following 3 scans. The top one of MWB146 has been missing from our listing.
Only 60 were printed by Mr. Beck.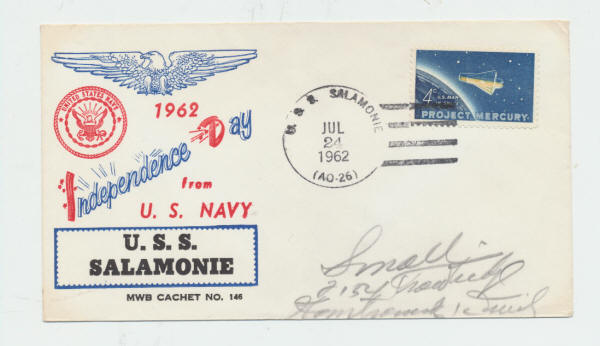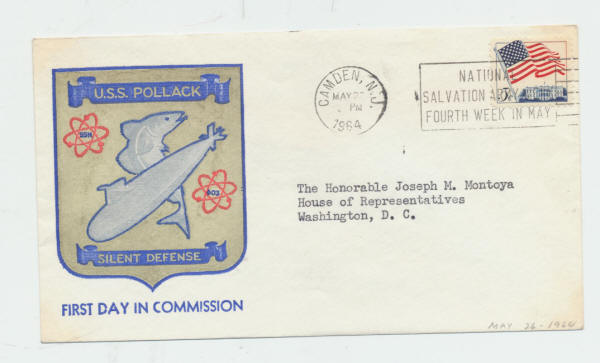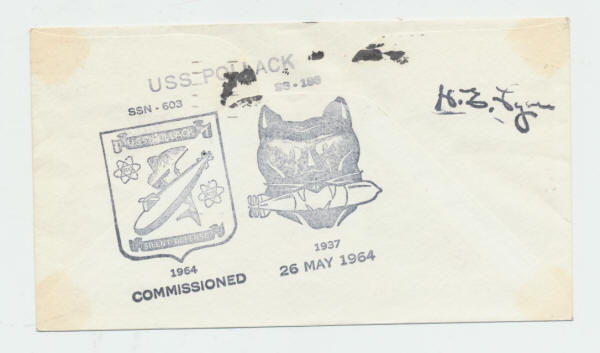 See the note that was enclosed in this cover HERE
Nice variety of Beck Covers with Harry Gordon Text Stamps Added February 3, 2020
Harry Gordon covers are popular and distinctive. His text stamps adds to Beck covers and others.
Scans courtesy of Charlie Hamilton

Note roller cancel on this cover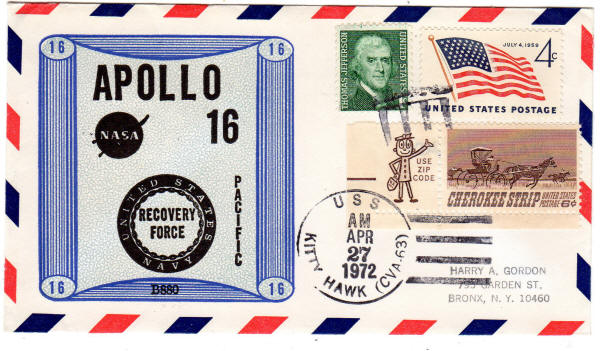 This Beck B880 postmarked USS Kitty Hawk is a new addition to the Apollo 16 covers. Previously unlisted.
GT-4 Cover Beck CREW Cover (Below Right) Sold on eBay for $105 January 12, 2020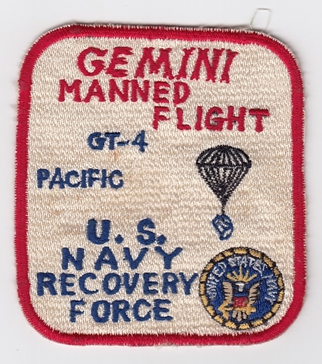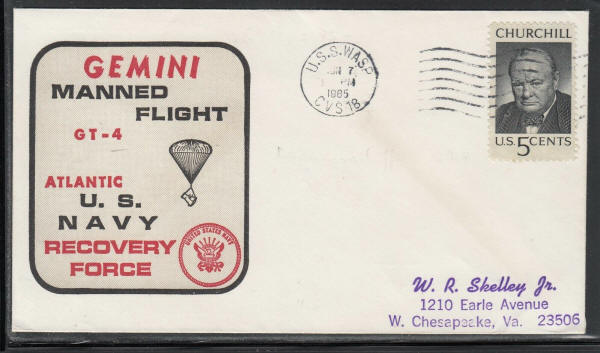 Patch scan courtesy of Tom Steiner
The GT-4 cover is shown here to help illustrate the patch. The Beck CREW cover sold on eBay for $105.
The patch sold in a space auction, January 18 for $180 before buyer premium.
More M W Beck Covers Sent in by Collectors for our site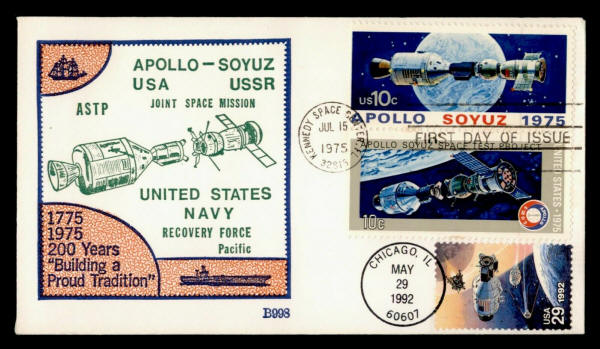 Scan courtesy of Jeff Mills
Dual cancel 1975 and then 1992. Probably unique.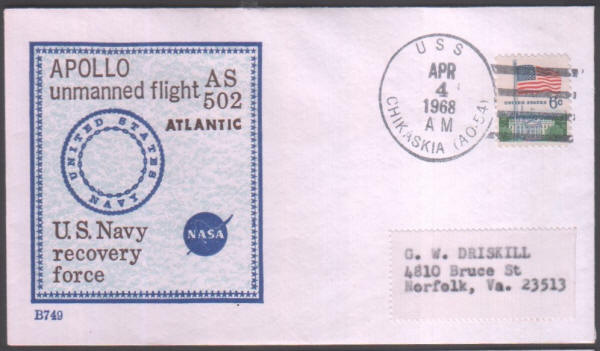 Scan courtesy of Jeff Mills
G W Driskill was in management with Sperry Rand Corporation. He was a specialist in Torque Balance Control
for the space program.
The Article About CREW Covers Is Totally Revised