Reference Catalog, Checklist and BLOG for US Navy Cover Collectors
Compiled and Managed by Owen R. Murray, A member of the USCS #5676 since 1966, and ATA Space Unit #4500
This not for profit Web site has over 3,000 scans of Beck Navy and Event Covers with Reference Text.
Home Morris W. Beck Cover Basics About this Web Site

Beck and Donald Schultz Postcard Messages sent to cover subscribers
Below are postcards sent to collectors from Morris Beck and Donald Schultz.
These postcards are very interesting and helpful when researching various space flights.
Thanks goes to David Ball for sending us these cards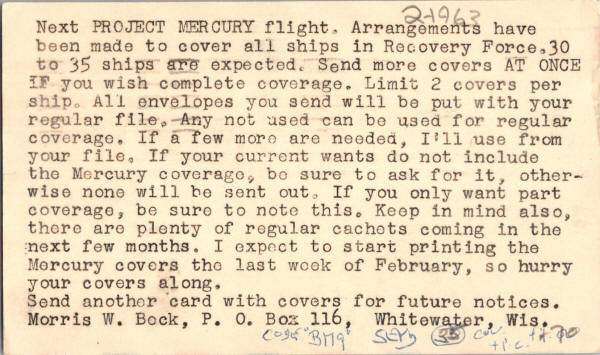 Postcards courtesy of David Ball
Please send comments, additions, corrections or questions to Owen R. Murray
Copyright ©2000-2019 Owen R Murray. All Rights Reserved Revised: Saturday January 04, 2020.