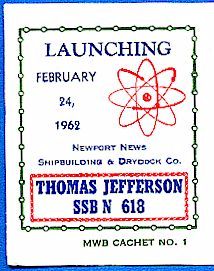 The Cachet
The "Cachet" as the printed design is known by cover collectors.
Morris W. Beck covers are known for their high quality color cachets. Beck is most famous for his series of 1000 covers. The space recovery covers of that series are of particular interest to collectors around the world.
He did not use a numbering system on all covers he produced. In total he produced over 2,000 Event, Naval, Space, and First Day Covers.


Style 1 used on Covers 1-90, 100-299
Style 1 used on Special Cover "S"


Style 2 used on Covers 91-99, 300-306


Style 3 used on Covers 307-1000
Numbering System For the 1000 Cover Series
Beck numbered each cover in the series 1-1000.
There are three numbering style varies throughout the series.
See samples at left.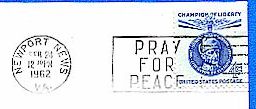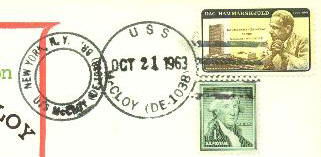 Shown are just a few samples for reference.
Postmarks/Cancellation on Naval Covers
The best resource for information about the many different naval postmarks comes from the Universal Ship Cancellation Society, USCS. The classification system used universally was developed by LCDR Francis E. Locy. His valuable work is now available from the USCS as the Catalog of United States Naval Postmarks. It is available from the USCS at this link.
There are many different cancels used by the US Navy on Beck Naval Covers. See more on the Locy System for classifying Naval Postmarks at this USCS link.
The Famous " S " Cover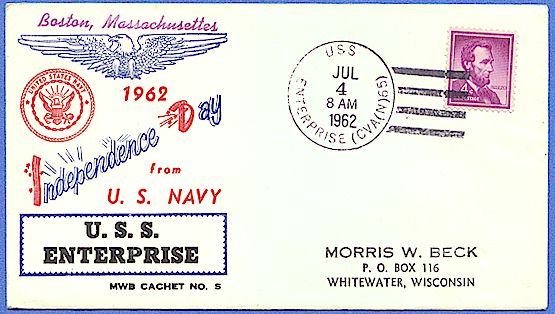 Beck added a cover to the 1962 Independence Day covers. Covers numbered 100-299 were all Independence Day cachets. The Enterprise cover shown above was added to that series as MWB Cachet No. S. This is a very scarce cover and sought after by many cover collectors.
---
Very Unique Printing Test Envelope
Below shows an envelope printed by Morris W Beck for testing printing and proofing of the covers he printed. This is the only such envelope this collector has ever seen or heard about. It recently sold for $20.00 and is a very good find for a serious Beck Cover Collector.